Svedala, September 2 2022.
RolloGuard, a leadning manufacturer of walking aids with built-in fall prevention, announces a world first at Fokus Hjälpmedel in Malmö. A slow down brake for rollators and walkers designed for use in real life.
Slow down brakes are essential, especially for users walking downhill with a fully loaded rollator bag. Without a slow down brake, the rollator tends to move away from the user with a high potentiall fall risk as a result. But existing slow down brakes are outdated, and introduces more negatives than positives. They are for instance always on or off and designed in a way requiring users to be agile in order to change. A lot of wear is introduces the legacy slow down brake itself and on the rollator wheels. Simply, they are not good enough.
RolloGuard is now changing the game. By leveraging another world first, the RolloGuard STOP brake, a slow down brake that activates automatically when needed or manually when the user requires more support has been developed.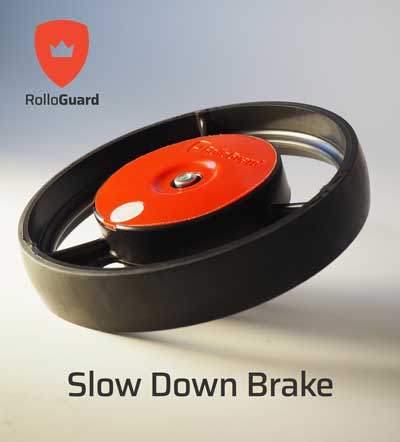 "After spending much time on interviewing users and healthcare professionals, the problem and lack of solution became very apparent." says Patrik Zander, CEO of RolloGuard and co-inventor of the RolloGuard wheel. Patrik continues "We have developed a solution that is designed to perfectly support the user walking with a fully loaded rollator in a 5 degree downwards slope".
The RolloGuard Slow Down brake comes in two versions for HOME or CARE use, and can be mounted on a wide range of existing rollator models.