ROLLOGUARD
IS A GIANT LEAP
IN ROLLATOR
SAFETY
PEOPLE FALL AND DIE USING THEIR ROLLATORS
AND WE DO SOMETHING ABOUT IT
USING HYPER INTELLIGENT PROTECTION
Acting before movement becomes a problem
STABILITY OF A WALKING FRAME
FOR THE ONES THAT DESERVES IT THE MOST
INCREASED INDEPENDENCE • BETTER HEALTH • IMPROVED REHABILITATION
"Patients are now walking more upright with less back pain"
"It has given our patients a better quality of life"
"It's like a psychological slow down brake"
"When we gave it to our patients it just worked"
"It prevents patients from moving too fast"
Stops rollator instantly when pushed quickly forwards
Remains in stopped position until moved backwards
Not interfering when walking safely
RolloGuard utilizes a Transversor to detect and prevent dangerous motion thousands times faster than humanly possible. RolloGuard addresses the root cause of the problem and does not wait for it to cause injuries. No limitations – maximum protection.
Lightning quick
Automatic
ISO 11199-2 TESTED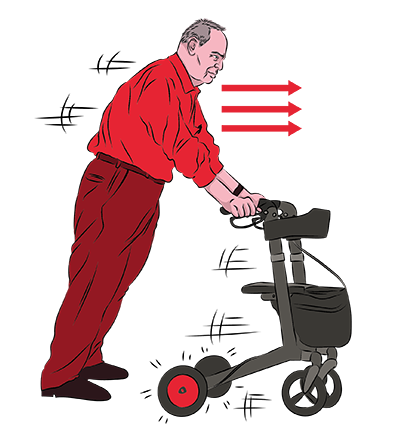 Soft Tire
Carefully selected to provide the best possible wear and friction properties.
Fall Protection Device
RolloGuard is mounted inside the wheel and works completely unattended
The RolloGuard hub fits inside any wheel with a minimum rim size of 150mm.
Protective setting
The colored sticker indactes the configured protection level
Frame adapter
The frame adapter is the only change necessary to fit any rollator
The universal design allow RolloGuard to easily be adapted to any rollator.
Multiple settings
Simply change the Insert to support a different need. RolloGuard comes with three easy to change settings.
Euler device
Part of the Transversor enabling lightning quick activation and fail safe operation.
With a simple design and without electronics, RolloGuard is easy to maintain and safe.
If you want more information about RolloGuard or how to try it, please use the contact form. We will answer as soon as possible.